Hear from our happy customers!
Don't take our word the quality food and service offered by Home-Tyme Food Services, read our customer reviews to learn for yourself! Ready to start your first order? Shop online now or contact us for more information!
Robert and Debbie Sweetman
We have been customers now for a couple of years , love the product and shopping at our door . food is excellent never been disappointed with product and service . Must try you will enjoy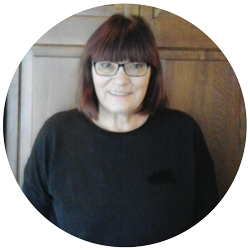 Liz Horne
James Hughes has been selling us meat products for several years - chicken, beef, seafood, fish and pork. Our family has enjoyed very much the good quality of this food.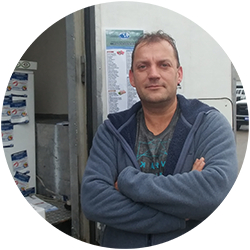 Alex Riker
I've dealt with Home-Tyme for a number of years now. I met Dave as one of my customers and I just decided to try the products. I must say that as much as I prefer to keep my business with small family ventures, there has to be some value. So that said, the service is great and I've never had a problem with any of it. The prices are completely in line with what grocery stores charge without making the trip. But here's the thing, while both of those are important to me, the absolute single most important thing to me is quality. Quality is so far ahead of anything else that I'm willing to sacrifice on other aspects. And the quality is astounding. My go to is chicken breasts and quite frankly the only chicken I've seen that's comparable is at a local butcher, and that's far more expensive. The fish and ground turkey is also exceptional in quality. The simple fact that there's no additives, not pumped full of water to make them look bigger or full of salt is the most important thing to me. I don't want or like junk in my food. And when I order from Dave I don't have to worry about any of that. Thanks so much for providing an excellent product and service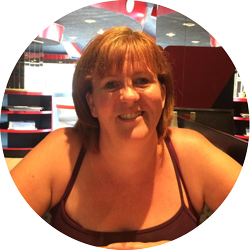 Kim Harmer-Broere
I can't say enough good things about your company! The quality of the food available to me is of the highest standard I have ever experienced! And trust me I've worked in the food industry so I know what I'm talking about! My husband and I have had a few moments that we planned on going out for dinner and decided to forego a trip out because we already had gourmet choices right in our freezer....why would I choose to go out for a burger when in a half hour I could have delicious salmon Wellington enticing me to my table? Or one of the mouthwatering baseball steaks with a side of Argentinian shrimp grilled to perfection....it's not a difficult choice let me tell you!
The fact that everything is in single serving vacuum sealed packages is even better.

Not to mention the wonderful man who delivers everything right to my door, rain or shine always a smile on his face, all I have to do is send a quick text message and Rob King is always happy to set up a time to drop by either with whatever I've asked for specifically or willing to take the time to talk to me about what he has available or what he thinks I might like to try because he remembers what I've bought in the past!

Rob and HomeTyme foods make my shopping simpler and definitely more delicious whenever I want it! For someone with a schedule as busy as mine it fits my lifestyle AND my budget!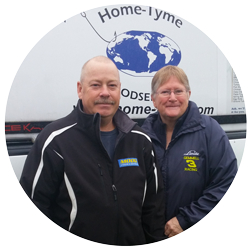 Doug & Barbara Weatherall
I have to admit that I was a little skeptical about door to door sales but I will say that I was pleasantly surprised. After looking at the product and having all of my questions answered by Rob(Who is very knowledgeable of the products) I decided to try some. Everything that I have tried has been Of good quality and excellent taste. I have especially enjoyed the roasts and the striploin steaks. I would highly recommend Home-Tyme Foodservices to everyone.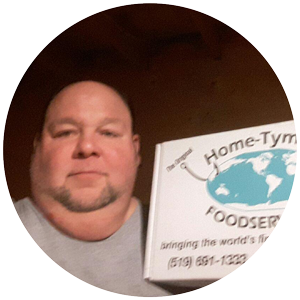 Edgar Mailloux
The most reliable, responsible, affordable great services brought right to you door. Home-Tyme Food Services. I have been dealing with Home-Tyme for about 8 years and I have never been disappointed with the product or the service. The salesperson is not just a sales person, they are also your friends I am a loyal customer and very pleased with the the service.

Thanks for the services in 2016 and looking forward to the deals in 2017
Jenn Daniel
We were so pleased with the chicken fingers! They were delicious - we loved them and so did the kids! And Rob has been fantastic to deal with! We look forward to trying other things from Home Tyme!
Tammy Minshull Cadotte--Chatham, Ont
I have enjoyed being a customer with Home-Tyme Foodservices. Ed seems to show up just when I need to restock my shrimp and cod. The seafood is amazing and I really like the single vacuum packing they use for their cod. The holiday season is upon us now, which means Ed is going to have some great choices for my holiday entertaining. Bacon wrapped scallops - yum, yum!